With summer now in full swing, it's the perfect time to discover new cocktails to sip on. Of the many reasons to love a drink, it can be even more rewarding to fall in love with a unique variation of an original. Enter the Moscow Mule.
First poured in 1941, this classic cocktail hails not from Moscow (weird, right?) but rather LA's celebrity packed British tavern, the Cock 'n Bull. It's use of ginger beer and copper mugs comes with an interesting backstory you wouldn't expect.
The bar owner at the time, Jack Morgan, way over ordered cases of ginger beer. Serendipitously, Jack's girlfriend conveniently owned a copper manufacturing company. Out of the necessity to clear inventory, coupled with the ability to acquire copper mugs for next to nothing, the Moscow Mule was born.
Over the years many variations have surfaced for an added twist, some better than others. Here are our favorite Top 5 not-so-traditional 'remixes' of the Moscow Mule that are a must try this summer!
The Summer Mule
Ingredients:
-1/2 oz freshly squeezed lime juice
-Fresh berries (about 4-6 per drink)
-2 oz  vodka
-3  oz ginger beer
-Soda or sparkling water
-ice
Directions:
Muddle the berries with the lime juice (blackberries and raspberries are preferred, but strawberries and blueberries work too)
Add the ginger beer and vodka
Pour over ice and top off with sparkling or soda water
The addition of fresh berries takes things to the next level. Whether you prefer blueberries or raspberries, you're in for a treat as the natural berry flavors pair well with the ginger beer. 
Bonus Tip- try blueberry or raspberry vodka instead of regular for an extra boost in taste!
The Spicy Mule
Ingredients:
-1 jalapeno (makes 4-6 drinks)
-1 oz freshly squeezed lime juice
-½ oz orange liqueur (ie. Grand Marnier or Cointreau)
-4 oz ginger beer
-2 oz vodka
-Ice
Directions:
1. Thinly slice the jalapeno and muddle a few slices with the lime juice and orange liqueur 2. Stir in the vodka and ginger beer
3. Serve over ice
Muddling the jalapeno slices brings out the bulk of the heat and flavor. If that's not enough for you, make sure the slices you add to the drink are thin too. This helps the vodka soak right through them to add an extra kick to this already spicy concoction. 
Bonus Tip- if your mouth is too hot afterwards, make your next drink a vodka-lemonade. The acidity of the spice gets neutralized by the alkaline properties of the sugar, vodka, and lemonade!
If you liked those to suggestions, make sure you sign up for the TmrwsBig email list. You'll get first peak of cool posts like this one, crazy BIG subscriber-only discount codes, and automatic entry into our Monthly Giveaway Contest! 
The Mega Mint Mule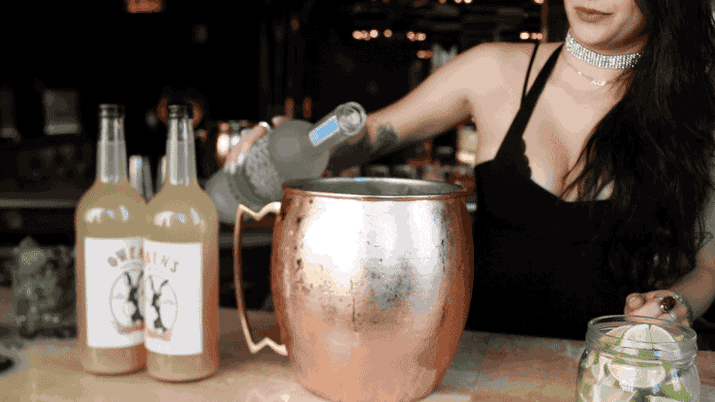 Ingredients: 
-5 parts ginger beer
-4 parts vodka
-1 part lime juice
-bundle of mint leaves
-Lots of Ice
Directions:
1. Muddle about half the mint leaves with the lime juice
2. Add all the ingredients together, stir, and serve over ice
3. garnish with remaining mint leaves
If you're looking to turn heads at your next summer party, furnishing a supersized Moscow Mule is the way to do it. Trending in bars in major cities, save yourself the hassle of the crowds and overpriced drinks by making yours at home. The most important piece is grabbing a 1.5 gallon Mowscow Mule Mug for making festive large-batch recipes. 
Bonus Tip- keep the giant mug in a freezer and add the ginger beer at the absolute last second. This will help keep things cooler and fizzy, longer!
The Long Island Mule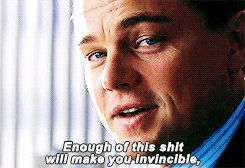 Ingredients:
-½ oz fresh lime juice
-½ oz fresh lemon juice
-3 oz ginger beer
-½ oz orange liqueur (ie. Grand Marnier or Cointreau)
-2 oz vodka
-1 oz light rum
-½ oz tequila
-Ice
Directions: Stir all the ingredients and serve over ice
If you arrived at the party late and need to play catch up, this one's definitely for you. This variation is by far one of the strongest we could find, drink with caution! 
Bonus Tip- try coconut rum instead of regular light rum, to give the drink a slightly tropical feel
The French and British Mules
Ingredients:
-2 oz gin (British) or 2 oz cognac (French)
-4 oz ginger beer
-½ oz freshly squeezed lime juice
-Ice
Directions: stir all the ingredients together and serve over ice
Nothing says British like gin, likewise, cognac for their French brethren. Both taste amazing and honor traditional ingredients of each country. 
Bonus Tip- add a few drops of aromatic bitters (Angostura) to the French Mule, it'll help the cognac reach its full potential. Add a fruit bitters (Regan's Orange) to the British Mule to help the gin reach its full potential!
All of the fun and unique Mules above taste incredible and will not disappoint. Already have a special variation you love sipping on? Great, because we want to hear about it. Share with us your recipe in the comment section below.
Happy drinking this summer, Cheers!
If you enjoyed this post, I'd be grateful if you'd helped share it! Thank you for the support 🙏
.
.
About the Author
Hi I'm Brian, founder of TmrwsBig. Originally from the greatest city on earth, Cleveland, now based in New York City. Obsessed with traveling, music festivals, and happy hours. Dedicated to following my dreams and helping others along the way. Especially fond of this quote- "Never give up on a dream just because of the time it will take to accomplish it. The time will pass anyway." Follow me on Instagram @HomerFolmer